N.J. Woman in Homeless Veteran Fundraising Scam Claims She Was Duped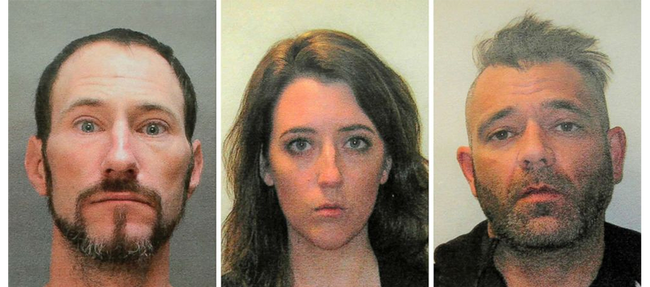 The story about a GoFundMe campaign started for a homeless veteran last year has taken yet another strange turn. According to ABC6, the woman accused in the scam has turned against her now ex-boyfriend, and claims that she was used and is being set up.
Kate McClure, Mark D'Amico and homeless veteran Johnny Bobbitt were charged last week for scamming hundreds of thousands of dollars from a GoFundMe account the trio set up late last year. Authorities allege that the three concocted a feel-good story last year about Bobbitt giving McClure his last $20 when her car ran out of gas.
But, according to McClure's attorney, McClure says she's being set up and had no idea there had been a conspiracy between her ex-boyfriend, D'Amico, and Bobbitt to scam everyone.
McClure claims that D'Amico was the one who fabricated the story about Bobbitt helping her after she ran out of gas. She says she went along with the story because she believed they would actually end up helping the homeless veteran with the GoFundMe campaign.
The GoFundMe campaign was set up by McClure and D'Amico with an initial goal of $10,000. The story quickly went viral and thousands of dollars poured in. The campaign eventually raised over $400,000 from 14,000 donors.
Gerrow told Good Morning America that D'Amico was the one "calling the shots."
"I really don't think (she was complicit)," Gerrow said. "People have to understand that this was an abusive relationship...She didn't understand or appreciate the fact that this may very well be a crime. What she was talking about and what she thought all along, was the fact she was trying to help this homeless man."
McClure claims that at one point, Bobbitt offered the couple $250,000 in return for their kindness.
"And Bobbitt said to D'Amico, look you folks have done a lot for me, I wanna give you $250,000," said McClure's attorney, James Gerrow.
After Bobbitt received the money, the couple went on to spend thousands of dollars on luxury items, trips to Disneyland and Las Vegas, and even a brand new BMW.
Their story began to fall apart in August after Bobbitt began complaining publicly that the couple had scammed him and ripped off all the money that had been "raised" for him.
"All along Kate had no idea that there had been a conspiracy really between D'Amico and Bobbitt to get money through GoFundMe," said Gerrow.
But last week, Burlington County, New Jersey Prosecutor Scott Caffina read texts messages allegedly sent from McClure to a friend after the campaign went live on Nov. 10. that revealed the story had been mostly made up.
"Ok, so wait. The gas part is completely made up. The guy isn't," McClure allegedly texted.
Investigators eventually determined that the three had conspired together to create the now-viral story and raise money.
Gerrow blamed the whole thing on addiction.
"It's my view that Mr. D'Amico suffers a gambling addiction and Mr. Bobbitt suffers a heroin addiction," he said.
The trio are due back in court Christmas Eve, December 24, although it's unlikely they will appear in person. McClure and D'Amico are charged with conspiracy and theft by deception. Bobbitt also faces similar charges.
Photo: Burlington County Prosecutor